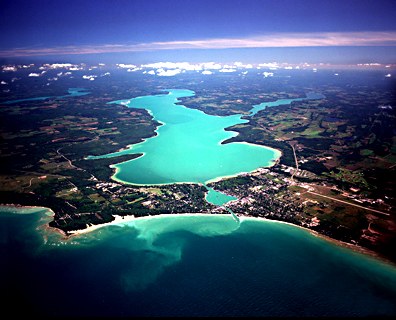 1 Montreal - Grand Canyon - Charlevoix (L'Isle-Aux-Coudres) ---- we will leave Montreal at 07:00am. It takes around 4 hours to drive to the Grand Canyon ($11). It has the numerous viewpoints of the Canyon and the three suspended bridges. The highest cliff of a height of 180 feet, makes it possible to appreciate the vertiginous notch of the glacial era, which was duged by the force of the imposing St.-Anne fall (271 feet) in the rock of 900 million years of the Canadian Shield. we will then take a ferry to L'Isle-Aux-Coudres, whose name Jacques Cartier is responsible for. Afterwards you will visit the Cidrerie and the Verger Pedneault, economuseum of apple growers ($2), the Museum Les Voitures d'Eau ($4) and Les Moulins de L'Isle-aux-Coudres($9). Then we will take the ferry back to our hotel for the night. Hotel: Chateau Mont-Sainte-Anne or similar.
2 Mont-Saint-Anne - Casino-L'Anse-saint-Jean-Blueberry Market-Chicoutimi ---- After breakfast, we will go to visit the Casino at the heart of Charlevoix. After that, we will leave to L'Anse-Saint-Jean, the most beautiful village in Quebec. Upon arrival, we will embark in a 2 hours Cruise ($48) through the Fjord du Saguenay made of amid rocky outcroppings, capes, steep cliffs, pristine coves and tumbling falls. we will also experience the sudden apparition of Baie Trinité in as its splendor. As the boat moves slowly up this magnificent bay, the statue of Notre-Dame-du-Saguenay watches over we from its promontory. At noon we will have delicious French meal with the magnificent view of the lake. When we finish the cruise, we will have chance to visit a blueberry market. Afterwards we will come to check in the hotel(Hotel La montannais) in Chicoutimi and have free time to walk around and have a good dinner in this beautiful town.
3 Chicoutimi - Saint-Felicien - Roberval Beach-Montreal ---- After breakfast, we will leave Chicoutimi to the town of Saint-Felicien. Over there, we will visit the wild zoo($38) where we can see many American animals such as black bears, deers, wolfs, even polar bear and tigers. You will also have chance to take the "Sentiers de la nature" train for an unforgettable excursion.After visiting the zoo, we will go to enjoy the summer at Roberval Beach. Then we will leave back to montreal and arrive at Montreal around 20:45.
Departure site: 1242 Rue Stanley Montreal