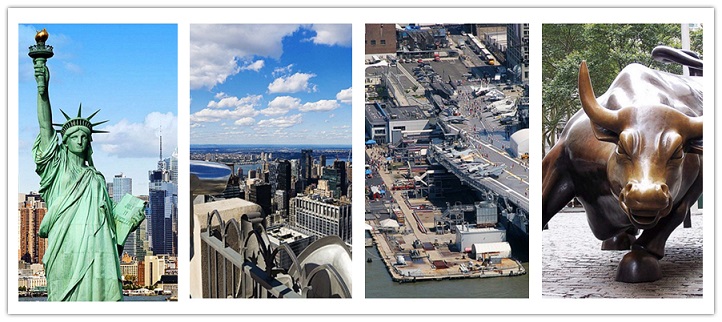 Day 1 Montreal - Boston
Departure early in the morning from Montreal for the famous historical and cultural city of the United States: Boston. Upon arrival, begin the visit with a local guide at one of the most elite and world renown institution of higher learning – Harvard University, for the experience in the unique campus ambiance that produced 40 Nobel prize winners and 8 U.S. Presidents. Next, you will stroll through the Massachusetts Institute of Technology (MIT), the standard bearer of world's academia in engineering and technology since 1861 - also known as the "Cradle of world's engineers". Following the two campuses, you will travel to downtown of Boston. There, you can take Boston Harbor Cruises for City Tour with a local tour guide to admire the city and know the history. Then free time to visit and dinner until approximately 8 PM. Head to hotel in Boston area later.Hotel:Days Inn or similar in Boston area
Day 2 Boston – New York
In the morning, you will leave for the most famous "Big Apple" – New York City, arriving in the afternoon at the Rockefeller Centre in Manhattan. You can go up the 259 meters tall GE building to enjoy the absolutely splendid view of Manhattan Island and beyond. Then, you will be taken to the resting place of USS Intrepid, a real aircraft-carrier and Submarine Growler where you will have the chance to board them in addition to having the chance of seeing USS Enterprise, the actual NASA Space Shuttle and a British Airways Concorde up close. In the afternoon, you will be taken to the world famous Broadway and Times Square where you will find the Madame Tussauds museum and the incredible Ripley's Believe it or Not auditorium and you will have the free time to shop and diner around. At around 8:00 PM, we will leave for the hotel in New Jersey.Hotel:Days Inn or similar in New Jersey
Day 3 New York-- Montreal
After breakfast, you will head to South Street Seaport to embark on a one hour cruise to admire the Statute of Liberty – the symbol of "Freedom, Democracy and Opportunity" and as well as the famous Brooklyn, Manhattan and Williamsburg Bridges – the three bridges to the east of Manhattan and enjoy the spectacular view of Manhattan skyline on the horizon. Then, you will be taken to lower Manhattan where you will stroll through Wall Street, New York Stock Exchange, the charging Bull of Wall Street and Ground Zero. And then head back to Montreal. Arrive at Montreal's downtown at approximately 9:00 PM.
Price Included:
1, Tour Leader (English/French)
2, Transportation (Deluxe Coach) and 2 nights hotel (3stars)
3, Breakfast in hotel
4, Taxes
Prices include the client's contribution to the Indemnity Fund amounting to $1.00 per $1,000 of travel services purchased.
Price Not Included:
1, Service Charge (3 days) (for Driver & Tour Leader): US$21/adult, US$15(0-11 yrs)/child
* (Notes: Service charge is payable by the number of the people you booked no matter how many show up. All spaces and seats on the bus are arranged by the tour guide, if the passenger no show, Wonder travel and the tour guide have the right to use the space and seats.)
2, Entrance fees
* Entrance fees:
- Boston harbor cruise: adult US$22, Child US$19(5-12)
- Harvard University Tour: adult US$13, Child US$10 (2-11)
- Ripley's Believe It or Not: adult US$31, Child US$22 (4-12)
- Mdm. Tussauds: adult US$32, Child US$29 (4-12)
- Intrepid Museum: adult US$32, Children (3-11) US$25
- Satatue Liberty Cruise: adult US$29, Child US$20 (3-12)
- Rockefeller Center: adult US$36, Child(6-11ans) US$30

3, Meals not indicated in the itinerary
4, Travel insurance
5, Personal consumption
Notes:
Important Notice: In respect of the program, Wonder Travel reserves all rights to cancel or change the visit without notice depending on weather and traffic, time changing or the closing day of tour sites, etc. Wonder Travel will not be held responsible for delays caused by accidents, breakdowns, bad road conditions, snow storms, detours, congestion or traffic and other conditions beyond its control. It will not be liable for damages that may result from failure to operate the start or to continue the journey if it deems prudent to do so. Wonder Travel may change the hotels or hotel locations without notice under the certain circumstance such as holidays, traffic, emergency in hotel, and so on. Each room contains one or two double beds in all hotels in North America. Wonder Travel does not accept any responsibility or liability for any loss resulting from force majeure or a trip without insurance. We recommend you to purchase personal travel insurance for protection. The tickets prices and meals can be changed according to the season without notice. All passengers must follow the group schedule. A passenger should be responsible and pay for extra transportation or other costs incurred by unauthorized self-action. All spaces and seats on the bus are arranged by Wonder Travel in order of reservation. If the passenger does not show up, Wonder Travel has the right to use the space and seats. Service charge is payable by the number of the people you booked regardless how many of you actually show up for the tour. Your reservation with Wonder Travel confirms that you have read, understood and agreed to all of the above terms and conditions. Should the client have any questions to the above policies, please feel free to contact us for detailed information and consulting.
Admission tickets bought through sellers other than Wonder Travel (e.g. City Pass) are not applicable to Wonder Travel tours.
Departure Point: 1242 Rue Stanley. Montreal (Green Line Metro Peel Exit St-Catherine or Orange Line Metro station Lucien-L'Allier)