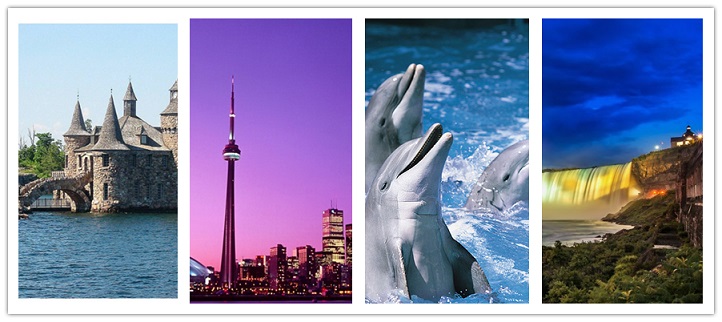 Day 1 Montreal - 1000 islands - Toronto -- Departure from Montreal at 7:00 AM. Around 2.5 hours' drive, we will stop at 1000 islands and take a cruise to enjoy such beautiful place(Top 3 in Canada). After lunch buffet, we will continue to go to Toronto. Upon arrival in Toronto, we will visit Ontario Provincial Parliament Building, Toronto City Hall, and University of Toronto. Around 8:00 PM we will go to our hotel. (Hotel in Toronto)
Day 2 Toronto - Niagara Falls -- After breakfast, we will head for Niagara Falls, which is composed by three waterfalls that straddle the border between Canada and the United States. Upon arrival, we will go to the top of Skylon Tower, where we can have a striking view of Niagara Falls. Afterwards, we will see an IMAX movie to know the history and adventure stories of the Falls. Afterwards, we will take journey Hehind the Falls, which is a must-see tourist attraction in North America. After lunch in your free time in the Falls area, around 7:00 PM, we will go to hotel. You can enjoy the Falls in the night. (Hotel in Niagara Falls)
Day 3 CN Tower - Casa Loma - Montreal -- After breakfast, we will go back to Toronto. Upon arrival, we will go up to CN Tower, the most well-known symbol of Canada. It was declared one of the modern Seven Wonders of the World. It is also the tallest telecommunication tower in the world. Afterwards, we will visit the majestic castlea, Casa Loma to step back in time to the European splendor and elegance in early 20th-century Toronto. After our buffet lunch, we start to head for Montreal. On our way back, we will stop for the Big Apple, an apple-pie factory, where you can buy some fresh cakes for your friends. We will arrive in Montreal's Chinatown around 9:00 PM.
Price includes:
English & French speaking guide (surcharge), transportation, 2 nights hotel, 2 breakfast, taxes, FICAV
Price excludes:
* Service charge for driver & guide: adult $21, Child (0-12) $15 (Notes: Service charge is payable by the number of the people you booked no matter how many show up)
* Entrance fees:
- 1000 islands: adult $24, Child $10 (2-12)
- Niagara Package: adult $48, child $29 (2-12)
(Skylon Tower, Imax Movie, Cruise Niagara Falls)
- CN Tower: adult $35, Child $27 (4-12)
- Casa Loma: adult $20, Child $11 (2-12)

* Travel insurance
* Meals
Important Notice: Wonder Travel reserves the right to modify or change the itinerary without notes and suggests passengers to buy travel insurance. Admission & meal price may be changed in different season without notice. All spaces and seats on the bus are arranged by the tour guide, if the passenger no show, Wonder travel and the tour guide have the right to use the space and seats.
Departure site: 1242 Rue Stanely. Montreal (Metro Peel Exit St-Catherine)