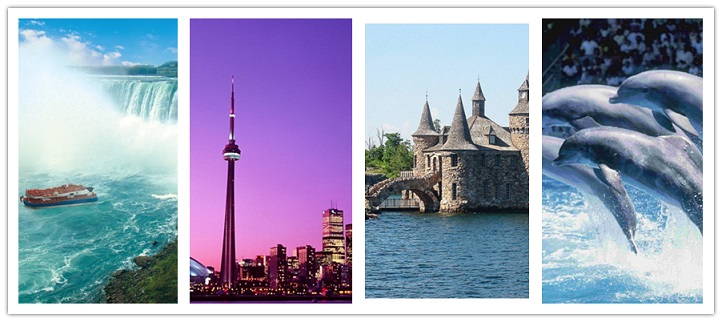 Bus tour package from Montreal to Toronto & Niagara Falls from Montreal. Organized travel from Montreal - Toronto - Niagara Falls.
Day 1 Montreal - 1000islands - Toronto - Departure from Montreal at 6:45 AM. After around 2.5 hours of driving, we will stop at 1000 islands, which are located on the St. Lawrence River and Eastern Lake Ontario areas (Canada's top 3 sightseeing, only available in Spring and Summer). We will take a scenic cruise to enjoy this beautiful place (the Boldt Castle on Heart Island, Singer Castle on Dark Island, etc.). After lunch, we will continue our road trip to Toronto, which is Canada's largest city. We will stop at Toronto downtown, and then there is an opportunity to see the Air Canada Center, the CN Tower, Ripley's Aquarium, Rogers Center, City Hall, Parliament Building, Eaton Center, and much more. Around 7:30 PM, we will head to our hotel: Four Points by Sheraton Mississauga or similar.
Day 2 Toronto - Niagara Falls - Montreal - In the morning, we will go to Niagara Falls. There are many spots in Niagara Falls, such as Museums, Restaurants, River views, Niagara Falls cruises, Shops, Skylon Tower, Parks, etc. Niagara Falls is extremely beautiful, enjoyable, and unique, in which you will have a lifetime experience. At noon, after having free time for photos and souvenirs, we will leave and drive back to Montreal. We will arrive in Montreal around 9:30 PM.
Admission tickets to 1000 Islands Cruise and Ripley's Aquarium are included in the price. There is no obligation to participate in other activities.
Price includes:
* English/French speaking guide, transportation, 1-night hotel, taxes, FICAV Contribution
* Admission ticket to 1000 Islands Cruise (Value $40)
* Admission ticket to Ripley's Aquarium (Value of $50)
* Stop to Toronto downtown
* Stop to Niagara Falls
* Free change of passenger's name
Price excludes:
* Gratuities for driver & guide: adults $9 per day, Children $7 (0-11 years) per day
* Meals
* Travel insurance
Important Notice: In respect of the program, Wonder Travel reserves all rights to cancel or change the visit without notice depending on weather and traffic, time changes, the closing day of tour sites, etc. Wonder Travel will not be held responsible for delays caused by accidents, breakdowns, bad road conditions, snowstorms, detours, congestion or traffic, and other conditions beyond its control. When an included visit from the tour package is not accessible, Wonder Travel reserves all rights to replace it with another plan without prior notice. It will not be liable for damages that may result from failure to operate at the start or to continue the journey if it deems prudent to do so. Wonder Travel may change the hotels or hotel locations without notice under certain circumstances such as holidays, traffic, emergency in the hotel, and so on. Each room contains one or two double beds in all hotels in North America. Wonder Travel does not accept any responsibility or liability for any loss resulting from force majeure. We recommend you purchase personal travel insurance for protection. All passengers must follow the group schedule. A passenger should be responsible and pay for extra transportation or other costs incurred by unauthorized self-action. All spaces and seats on the bus are arranged by Wonder Travel in order of reservation. If the passenger does not show up, Wonder Travel has the right to use the space and seats. Your reservation with Wonder Travel confirms that you have read, understood, and agreed to all of the above terms and conditions. Should the client have any questions about the above policies, please feel free to contact us for detailed information and consulting.
Departure Point: 1242 Rue Stanley. Montreal (Green Line Metro Peel Exit St-Catherine or Orange Line Metro station Lucien-L'Allier)
The indoor parking lot is available and affordable. The address for the parking lot is 1200 Rue Stanley, Montreal. For more detailed information please visit www.autoparcstanley.com
The organized coach travels from Montreal – Toronto – Niagara Falls.